Select The Letter that Corresponds To The First Letter Of The County.  Then Select The County From The List Below.
NOTICE:
You are hereby notified that pursuant to O.C.GA48-5-264.1 (a), representatives of the Wilkes County Assessors Office, with proper I.D., may enter upon your property during normal business hours, for the purposes of collecting accurate data or any verifications thereof due to any permits issued, return of value filing, revaluations (partial or whole), parcel sales, covenants, land splits, 3 year review and appeal reviews. This includes all residential properties, manufactured home, commercial and industrial properties.
Should you have any questions please contact our office..
Welcome to the Wilkes County Assessors
Office Web Site!
Our office is open to the public from 8:00 AM until 5:00 PM, Monday through Friday.
The goal of the Wilkes County Assessors Office is to provide the people of Wilkes County with a web site that is easy to use. You can search our site for a wealth of information on any property in Wilkes County.
The information contained herein reflects the values established in the "most current published" tax digest. *Please note that the Assessors Office establishes values only. The Wilkes County Tax Commissioner should be contacted with tax bill related questions.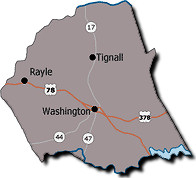 Did you know?
Wilkes County, the 1st county formed in Georgia, was created in 1777. Originally including Lincoln, Elbert and parts of Hart, Madison, McDuffie, Oglethorpe, Taliaferro and Warren counties, Wilkes County was named for John Wilkes, a member of the British Parliament who supported the colonies' cause.
Washington, county seat of Wilkes County, is said to be the first community in the nation to be incorporated under the name in honor of George Washington, and has more antebellum homes than any other city of its size in the state. The community was originally named Heard's Fort after the family that settled it in 1773. They were neighbors of George Washington in Virginia. Washington is the site of the Cooper-Sanders-Wickersham House, where Jefferson Davis formally dissolved the Confederacy on May 5, 1865. Also, the Robert Toombs House and the Washington Historical Museum are located in the city. Washington was incorporated as a town in 1804.
The world's first cotton gin was developed by Eli Whitney on a Wilkes County plantation in 1794. The county is also the site of the first cotton mill in the south.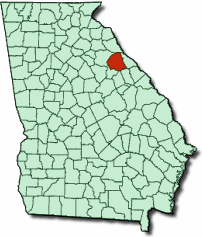 Callaway Plantation is a living history museum where visitors can tour plantation houses and see how life on a plantation was lived in the 1800s.
During the final days of the Civil War, the Confederate treasury, believed to be over half a million dollars in gold, ended up in Washington. Some of this fortune was seized by Jefferson Davis or captured by Union soldiers. The remaining amount of Confederate Gold is believed to be buried in Wilkes County.
According to 2000 Census, the City of Washington had a population of 4,295 persons. Between 1990 and 2000, the city experienced a population increase of 0.4%, compared to the state growth during this period of 26.4%.
Source: georgia.gov
WILKES CO TAX ASSESSORS
23 E COURT ST RM 202
WASHINGTON GA 30673
706-678-7732