Select The Letter that Corresponds To The First Letter Of The County.  Then Select The County From The List Below.

Welcome to the Wilcox County Assessors
Office Web Site!
Our office is open to the public from 9:00 AM until 5:00 PM, Monday through Friday.
The goal of the Wilcox County Assessors Office is to provide the people of Wilcox County with a web site that is easy to use. You can search our site for a wealth of information on any property in Wilcox County.
The information contained herein reflects the values established in the "most current published" tax digest. *Please note that the Assessors Office establishes values only. The Wilcox County Tax Commissioner should be contacted with tax bill related questions.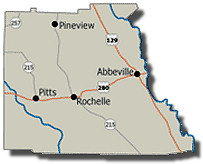 Did you know?
Wilcox County was created from Dooly, Irwin, and Pulaski counties in 1857. Georgia's 124th county was named for General Mark Wilcox, state legislator and one of the founders of the Georgia Supreme Court.
Poor Robin Spring, located near Abbeville, was named for an Indian chief who was said to have been healed after bathing in its ice-cold waters. A venison ham more than 100 years old was taken from the depths of the spring and found to be petrified.
The Ocmulgee River forms the county's eastern boundary. Guided wild boar hunts are available along its banks.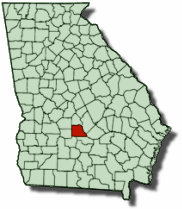 Wilcox is primarily an agricultural community. It is the state's second largest producer of watermelons and among the top producers of cantaloupe. Other products include peanuts, cotton, broilers, and timber.
The Ocmulgee Wild Hog Festival is held in Abbeville each May. Visitors enjoy big plates of barbeque, a womanless beauty pageant, arts and crafts, a hog baying contest, and displays of wild boars.
Source: georgia.gov
WILCOX CO TAX ASSESSORS
103 N BROAD ST
ABBEVILLE GA 31001
229-467-2428