Select The Letter that Corresponds To The First Letter Of The County.  Then Select The County From The List Below.

Welcome to the Wheeler County Assessors
Office Web Site!
Our office is open to the public from 8:00 AM until 4:00 PM, Monday through Friday.
The goal of the Wheeler County Assessors Office is to provide the people of Wheeler County with a web site that is easy to use. You can search our site for a wealth of information on any property in Wheeler County.
The information contained herein reflects the values established in the "most current published" tax digest. *Please note that the Assessors Office establishes values only. The Wheeler County Tax Commissioner should be contacted with tax bill related questions.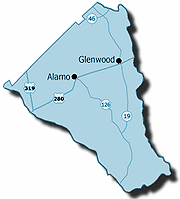 Did you know?
Wheeler County, the 146th county formed in Georgia, was created in 1912 from part of Montgomery County. The county was named for General Joseph Wheeler, who served in the Confederate Calvary and later as a U.S. Army officer in the Spanish-American War.
Wheeler County has two locations listed on the National Register of Historic Places. The Wheeler County Courthouse, built in 1915, is a large brick structure featuring columns across the entrance and marble corridors. The Woodland Plantation, constructed in 1870, is a 19-room private residence featuring imported Italian black marble fireplaces, a multi-gabled roof, and ornate mahogany molding.
Another site of historical significance is the Milly Troup Tomb and the Big Oak Tree. According to legend, a young slave who died in 1863 was buried near the home of her master, and an oak tree was planted to shade the grave; however, it is more likely that the young woman was buried near an existing tree. The tombstone is still there, and the tree now measures 30 feet in circumference, with a canopy that spreads 141 feet.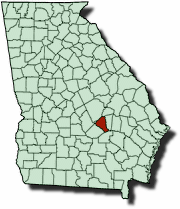 The Little Ocmulgee River forms a natural border on the western side of the county, the Ocmulgee River forms the southern tip of the county, and the Oconee River forms the eastern border. They flow together into the Altamaha River. The area is often referred to as the "three rivers" area.
Little Ocmulgee State Park provides a recreation and conservation area for Wheeler County. Its features include a lodge, restaurant, conference center, 18-hole golf course, lake, fishing, cottages, camp sites, picnic shelters, miniature golf, and playground.
Source: georgia.gov
WHEELER CO TAX ASSESSORS
P O BOX 149
ALAMO GA 30411
912-568-7924