Select The Letter that Corresponds To The First Letter Of The County.  Then Select The County From The List Below.

Welcome to the Wayne County Assessors
Office Web Site!
Our office is open to the public from 8:00 AM until 5:00 PM, Monday through Friday.
The goal of the Wayne County Assessors Office is to provide the people of Wayne County with a web site that is easy to use. You can search our site for a wealth of information on any property in Wayne County.
The information contained herein reflects the values established in the "most current published" tax digest. *Please note that the Assessors Office establishes values only. The Wayne County Tax Commissioner should be contacted with tax bill related questions.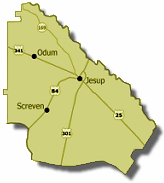 Did you know?
Georgia's 28th county, Wayne County, was created in 1803 from Creek Indian land. The county bears the name of a flamboyant Pennsylvania commander in the Revolutionary War, General "Mad" Anthony Wayne. Until 1850, the county bragged that it had no jails and needed none.
The county seat was moved to Jesup in 1874. The current courthouse, built in 1803, is on the National Register of Historic Places. Often called "the town that trains made," Jesup's history is full of railway lore. In 1890, 57 trains per day made stops in Jesup, passenger fares collected averaged $1,000 per day, and the rail yard could hold 500 cars. Residents relied on the trains to set their clocks, provide entertainment, and sound alarms in emergencies. By 1924, Jesup was known as the railway center of South Coast Georgia. Trains still stop for passenger service three times daily.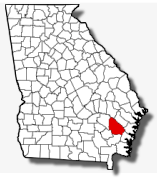 For recreation, residents of Wayne County may choose from many water sports. The Altamaha River offers canoeing, boating and fishing. Skiing competitions on Lake Kenerly attract national athletes.
Wayne County is home to two Wildlife Management Areas: Little Satilla and Tyler Tract.
Wayne County hosts four annual festivals: Jesup's Dogwood Arts and Crafts Festival, the Fourth of July Celebration in Screven, Odum's Homecoming Day, and the autumn Altamaha River Heritage Festival.
Source: georgia.gov
WAYNE CO TAX ASSESSORS
P O BOX 174
JESUP GA 31598
912-427-5920