Select The Letter that Corresponds To The First Letter Of The County.  Then Select The County From The List Below.

Welcome to the Ware County Assessors
Office Web Site!
Our office is open to the public from 9:00 AM until 5:00 PM, Monday through Friday.Twelve employees, including seven Appraisers, four Clerks and one Mapper, staff our office, which is located at 215 Oak Street in Waycross. We manage the information for some twenty-five thousand parcels of real property and five thousand personal property accounts in Ware County.
The Ware County Board of Assessors (BOA) is a five-member board appointed by the County Commissioners. They are responsible for ensuring the fair market value of all property in Ware County. Fair market value is defined as the amount a knowledgeable buyer would pay for a property and a knowledgeable seller would accept for a property in an "arm's-length" sale.
The State Legislature, Department of Revenue and the Department of Audits, Rules and Regulations administer procedure that governs the overall function of this office.
The goal of the Ware County Assessors Office is to provide the people of Ware County with a web site that is easy to use. You can search our site for a wealth of information on any property in Ware County.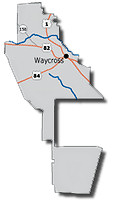 The information contained herein reflects the values established in the "most current published" tax digest. *Please note that the Assessors Office establishes values only. The Ware County Tax Commissioner should be contacted with tax bill related questions.
Did you know?
Ware County was created in 1824 from a part of the original landlot county of Appling. Georgia's 60th county is named for Nicholas Ware, who served as mayor of Augusta and as U.S. Senator.
The county seat, and only municipality in the county, is Waycross, an employment and commercial center for the region. Originally known as Tebeauville, the city's current name derives from its location at a key railroad junction. Lines from six directions meet at the city.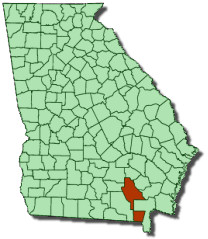 Ware County is the largest county, in area, in Georgia. Waycross is often referred to as the largest city, in the largest county, in the largest state east of the Mississippi.
Laura S. Walker State Park, located near Waycross, is one of the few state parks in Georgia named for a woman. She was a Georgia writer, teacher, civic leader and naturalist who worked diligently to preserve the trees and habitats around her.
There are over 25 special events in the county, including the Okefenokee Swamp Fling, Pogofest and the Paul Azinger Golf Classic.
Source: georgia.gov
WARE CO TAX ASSESSORS
215 OAK STREET
WAYCROSS GA 31501
912-287-4383