Select The Letter that Corresponds To The First Letter Of The County.  Then Select The County From The List Below.

Welcome to the Upson County Assessors
Office Web Site!
Our office is open to the public from 8:00 AM until 5:00 PM, Monday through Friday. We are located in the County Government Annex Building across from the Historic Court House on the Second floor. We manage the information for the 15,000 plus parcels of real property and 1,400 personal property accounts in Upson County.
The State Legislature, Department of Revenue and the Department of Audits administer procedure that govern the overall function of this office.
The Board of Commissioners has five members. The Commissioners serve staggered terms of four years. Some of these are elected at large and others by district. The Electorate chooses the Chairman.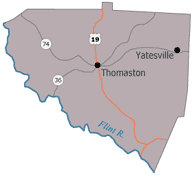 The Board of Commissioners holds regular meetings on the second and fourth Tuesdays of every month.
Upson County was created in 1824 from parts of the original Monroe and Houston Counties. The northern half of Upson County was created from Monroe County. The southern half was created from Houston County. Upson County was named for the Hon. Stephen Upson, one of Georgia's most successful lawyers. He died in August of 1824. The County seat is Thomaston and was named for General Jett Thomas, famous in the War of 1812.
Prior to the War Between the States, Upson County was known for its schools and railroad. After the war, Upson County rebuilt as a center for agriculture and textiles. Both industries continue to flourish in the County.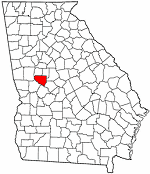 Upson County is located in middle Georgia with easy access to both Atlanta and Macon. It was ranked 54th in the State based on the 2000 census with a population of 27,597. Upson County has a total area of 326 square miles with over 592 miles of roads.
The City of Thomaston is the County seat. Thomaston has a population of just over 9,400 based on the 2000 census. Other incorporated areas in Upson County include The Rock and Yatesville.
UPSON CO TAX ASSESSORS
P O BOX 508
THOMASTON GA 30286
706-647-8176