Select The Letter that Corresponds To The First Letter Of The County.  Then Select The County From The List Below.

Welcome to the Treutlen County Assessors
Office Web Site!
Our office is open to the public from 8:00 AM until 5:00 PM, Monday through Friday.
The goal of the Treutlen County Assessors Office is to provide the people of Treutlen County with a web site that is easy to use. You can search our site for a wealth of information on any property in Treutlen County.
The information contained herein reflects the values established in the "most current published" tax digest. *Please note that the Assessors Office establishes values only. The Treutlen County Tax Commissioner should be contacted with tax bill related questions.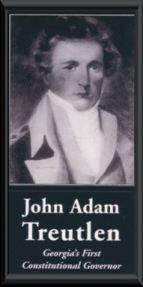 Did you know?
Treutlen County, the 152nd county formed in Georgia, was created in 1917 from parts of Emanuel and Montgomery counties, territory that had been settled as early as 1784. The county was named for John Adam Treutlen who, after serving in the Provincial Congress of 1775, became the state's first governor, although the Crown regarded him only as a rebel governor.
Source: georgia.gov
TREUTLEN CO TAX ASSESSORS
650 SECOND STREET, SUITE 105
SOPERTON GA 30457
912-529-4343