Select The Letter that Corresponds To The First Letter Of The County.  Then Select The County From The List Below.

Welcome to the Towns County Assessors Office Web Site!
Welcome to the Towns County Assessors Office Web Site!Our office is open to the public from 8:30 AM until 4:30 PM, Monday through Friday.
The goal of the Towns County Assessors Office is to provide the people of Towns County with a web site that is easy to use. You can search our site for a wealth of information on any property in Towns County.
The information contained herein reflects the values established in the "most current published" tax digest. *Please note that the Assessors Office establishes values only. The Towns County Tax Commissioner should be contacted with tax bill related questions.
PUBLIC NOTICE:
Notice to Towns County Property Owners and Occupants. In accordance with O.C.G.A. 48-5-264.1, please be advised that the Towns County Appraisal Staff may be visiting your property to review your parcel information concerning an appeal filed, return filed, construction of new improvement or addition, review of parcel, and/or conservation use application. The field appraiser from our office will have photo identification and will be driving a marked county vehicle. If you have any further questions, please call our office at (706) 896-3984.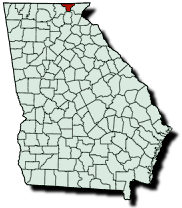 Did you know?
Towns County, the 117th county formed in Georgia, was created in 1856 from parts of Union and Rabun counties. It was named for George Washington Bonaparte Towns, who was governor of Georgia from 1847 to 1851.
Young Harris was originally named Young Harris College in honor of Judge Young Loftin Gerdine Harris of Athens. It was soon shortened to Young Harris, although there is still a Young Harris College located there.
Chatuge Lake is located in the northern part of the county and reaches into North Carolina. It is a storage facility for the Tennessee Valley Authority, and is also a public preserve.
Hiawassee, the county seat of Towns County, was incorporated on May 17, 1956. (Earlier the city was incorporated as the town of "Hiwassee", October 24, 1870.) Hiawassee, a Cherokee word meaning "meadow", is the only incorporated municipality in the county.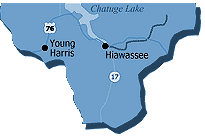 The City of Hiawassee and the Hiawassee River have long been popular tourist areas. In the 1800s through the 1930s, wealthy families from the lowlands would "summer in the mountains" to escape the heat and disease more prevalent in the larger populated areas.
The Fred Hamilton Rhododendron Garden is a Hiawassee attraction that features 2,000 rhododendron and azalea plants and wildflowers.
According to 2000 Census, the City of Hiawassee had a population of 808 persons. Between 1990 and 2000, the city experienced a population increase of 47.7%, compared to the state growth during this period of 26.4%.
Source: georgia.gov
TOWNS CO TAX ASSESSORS
48 RIVER ST SU G
HIAWASSEE GA 30546
706-896-3984