Select The Letter that Corresponds To The First Letter Of The County.  Then Select The County From The List Below.


Welcome to the Thomas County Assessors Office Web Site!
Our office is open to the public from 8:00 AM until 5:00 PM, Monday through Friday.
The goal of the Thomas County Assessors Office is to provide the people of Thomas County with a web site that is easy to use. You can search our site for a wealth of information on any property in Thomas County.
The information contained herein reflects the values established in the "most current published" tax digest. *Please note that the Assessors Office establishes values only. The Thomas County Tax Commissioner should be contacted with tax bill related questions.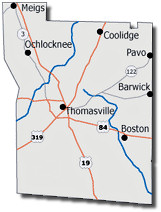 Notice to Taxpayer
In compliance with Georgia Law 48-5-264.1 requiring reasonable notice in advance of the appraisal staff visiting property while conducting official business, this notice serves to inform the property owner that obtaining a building permit and/or the filing of an appeal will require the appraisal staff to visit the property to verify property information. Prior to the property review by the Board of Assessors, members of the county appraisal staff will conduct an on-site review of the property.
All members of the appraisal staff visiting your property will display Thomas County identification with a photo, and will drive marked county vehicles.
Georgia law requires that property be valued at Fair Market Value and uniformly. The Assessment Value for Georgia is 40% of the Fair Market Value. If the Sales Ratio (assessed Value ÷ Sales Price) is between 36% and 44%, then the ratio is acceptable to the Georgia Department of Revenue. The Thomas County Sales Ratio was confirmed by State Auditors for tax years 2008, 2009 and 2010.
After analyzing the 2009 and 2010 sales for residential, agricultural, industrial, commercial and vacant land properties, the Thomas County Board of Tax Assessors has made adjustments to the Fair Market Value of Thomas County properties in order to be within the 36%-44% acceptable Sales Ratio range for 2011.
Some advantages of continuing to maintain current assessments are:
Assessments reflect market value
Uniformity among taxpayers
Fair and understandable
Compliance with Georgia Department of Revenue

Thomas County Board of Assessors

Did you know?
Thomas County was created in 1825 from portions of Decatur and Irwin counties. Georgia's 63rd county, and its county seat, Thomasville, were named for a hero of the War of 1812, General Jett Thomas. In addition to his military career, General Thomas built the first university building in Athens.

Ochlocknee is named for the river flowing through Thomas County. Pavo, Latin for Peacock, was named after the first postmaster in the area.

Thomasville was a popular, turn-of-the-century, winter resort for wealthy northern families. Non-residents still maintain many large estates and hunting preserves. Many of these estates are listed on the National Register of Historic Places including the Susina Plantation, the Lapham-Patterson House, Thomasville Cultural Center, Pebble Hill Plantation and Melhana Plantation. The Lapham-Patterson House is a large, Victorian house that was built by a survivor of the great fire of Chicago. He designed the house with 45 doors, 26 of which were exterior. Every room had its own fire extinguisher.

Limestone sinks are common in this section which was once part of the ocean floor. A great limestone aquifer in subterranean south Georgia offers a nearly limitless fresh water supply.

Thomasville is home to a "Big Oak," which has a limb spread of about 175 feet. Also, the McKinley Memorial Tree planted in 1896 as a salute to candidate William McKinley, who became the 25th President of the United States, is located in Thomasville.

Bailey White, a National Public Radio essayist and author of Mama Makes Up Her Mind, is from Thomas County.

Thomasville is known for its annual Rose Festival and is nicknamed "The City of Roses". The historic Rose Weekend begins the fourth Friday in April. The annual Rose Parade and many other activities are held during the month.

The Victorian Christmas Activities are held the second Thursday and Friday in December in downtown Thomasville. The Plantation Wildlife Arts Festival is held in November.
Source: georgia.gov
THOMAS CO TAX ASSESSOR
101 S BROAD ST
THOMASVILLE GA 31792
229-225-4133