Select The Letter that Corresponds To The First Letter Of The County.  Then Select The County From The List Below.

Welcome to the Telfair County Assessors
Office Web Site!
Our office is open to the public from 8:00 AM until 5:00 PM, Monday through Friday.
The goal of the Telfair County Assessors Office is to provide the people of Telfair County with a web site that is easy to use. You can search our site for a wealth of information on any property in Telfair County.
The information contained herein reflects the values established in the "most current published" tax digest. *Please note that the Assessors Office establishes values only. The Telfair County Tax Commissioner should be contacted with tax bill related questions.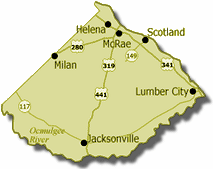 Did you know?
Telfair County, the 35th county formed in Georgia, was created in 1807. The county was named for Governor Edward Telfair, who came to Savannah from Scotland in 1766, eventually serving in the Continental Congress and as governor of Georgia.
The county was primarily settled by Scottish Presbyterians from the Carolinas. Jacksonville was the first seat of government and remained an important river trading center until after the Civil War. Lumber City, in the eastern part of the county, is known for its 50 artesian wells.
At the intersection of five state highways in the county is what is known as "Liberty Square," where the county has its own replica of the Statue of Liberty. The statue, which stands about 35 feet high, is one twelfth of the size of the original. Also located here is the old McRae fire bell, refurbished to look like the original Liberty Bell.
The world record for the largest large-mouth bass ever caught is held by George Perry of Telfair County, who caught a fish that weighed 22 pounds, 4 ounces in 1932. The record still stands.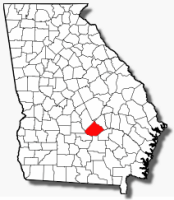 Little Ocmulgee State Park started with donated land from landowners along the Ocmulgee River. This 265-acre lake with a beach situated in a 1,397-acre park is a main attraction in the county along with the 18-hole golf course and lodge.
Eugene and Herman Talmadge–a father and son who each served as governor of Georgia–were from Telfair County. Herman Talmadge was also a U.S. Senator. While governor, he was known for his progressive programs of school, hospital and road building projects.
Some of the local area festivals include the Lumber City Farm Day in September, God and Country Fourth of July Celebration, the Milan Fall Festival, and the Spanish Moss Festival.
Source: georgia.gov
TELFAIR CO TAX ASSESSORS
128 E OAK ST SU 9
MCRAE GA 31055
229-868-2896