Select The Letter that Corresponds To The First Letter Of The County.  Then Select The County From The List Below.

Welcome to the Taylor County Assessors
Office Web Site!
Our office is open to the public from 8:00 AM until 5:00 PM, Monday through Friday.
The goal of the Taylor County Assessors Office is to provide the people of Taylor County with a web site that is easy to use. You can search our site for a wealth of information on any property in Taylor County.
The information contained herein reflects the values established in the "most current published" tax digest. *Please note that the Assessors Office establishes values only. The Taylor County Tax Commissioner should be contacted with tax bill related questions.
Did you know?
Taylor County was created from Macon, Marion and Talbot counties in 1852, the 98th county organized. The county was named after Zachary Taylor, who won a victory at Buena Vista in the Mexican War and later became the 12th President of the United States.
The Tuscaloosa Formation, located in the county, is a sand clay formation that represents the first prominent coastal plains deposits laid.
Butler was named for General William Orlando Butler, another hero of the Mexican War.
The Wire Road, which ran through Taylor County, was named for the telegraph wire that stretched along it. The road was part of the stage highway from Richmond to New Orleans.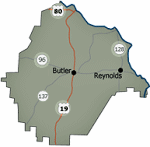 Points of interest in Taylor County include: Beechwood Farm, the home of Confederate General John B. Gordon; and the site of Fort Lawrence, which was established by Colonel Benjamin Hawkins, for whom Hawkinsville was named.
The Crackerland Country Fair is held in the community of Howard each April. Also, a Strawberry Festival is held annually in Reynolds.
City of Butler
Butler, the county seat of Taylor County, was incorporated on February 8, 1854; however, the charter for the town was not received until 1870. Butler was named for General William Orlando Butler, a distinguished hero of the Mexican War.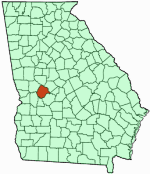 The Taylor County courthouse was built in 1935 and is listed on the National Register of Historic Places. The courthouse's bell tower was restored in 1995.
The Countryside Festival is held annually in the heart of downtown Butler. The festival includes an arts and crafts show, a parade, live entertainment, and other "ole time" activities like greased pig contests, sack races and apple bobbing.
According to 2000 Census, the City of Butler had a population of 1,907 persons. Between 1990 and 2000, the city experienced a population increase of 14.0%, compared to the state growth during this period of 26.4%.
Source: georgia.gov
TAYLOR CO TAX ASSESSORS
P O BOX 68
BUTLER GA 31006
478-862-3802