Select The Letter that Corresponds To The First Letter Of The County.  Then Select The County From The List Below.

Welcome to the Tattnall County Assessors
Office Web Site!
Our office is open to the public from 8:00 AM until 5:00 PM, Monday through Friday.
The goal of the Tattnall County Assessors Office is to provide the people of Tattnall County with a web site that is easy to use. You can search our site for a wealth of information on any property in Tattnall County.
The information contained herein reflects the values established in the "most current published" tax digest. *Please note that the Assessors Office establishes values only. The Tattnall County Tax Commissioner should be contacted with tax bill related questions.
Notice to Property Owners and Occupants concerning visits to your Property.
Georgia Law (OCGA § 48-5-264.1) requires property owners and occupants be provided reasonable notice prior to a site visit conducted by or on behalf of the Tattnall County Assessors Office.
In accordance with this law, please be advised that the Tattnall County Appraisal Staff may be visiting your property soon. The purpose of this visit will be either to determine the level of completion of any improvements that may have been made to your property or to verify correctness of the improvements in our records. The issuance of a Building Permit will necessitate a visit to your property. Also a visit may be conducted if a Tax Return is made, an Appeal is filed or there has been a recent sales transaction. The appraiser will only gather necessary property information and take photographs.
The appraiser will have a photo identification badge and will be driving an appropriately marked vehicle. If the appraiser is not allowed access to your property, estimations will be performed. If there is any question about the identity of the appraiser, or if there are any questions regarding the visit, do not hesitate to contact the Tattnall County Assessors Office at 912-557-4010.
Did you know?
The Tattnall Museum, located in Glennville, displays art, science and local history.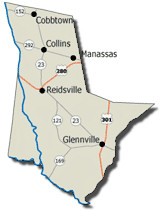 The Georgia State Penitentiary, the state's central holding facility, is located just south of Reidsville. This is Georgia's oldest state prison, built in 1936. The prison rotunda was constructed of marble. The prison, which was designed to hold 2,000 inmates, cost $1.5 million to build.
The Wiregrass Trail, a historic route through southeastern Georgia, runs through Tattnall County.
Fishing is abundant in the Ohoopee and Altamaha Rivers as well as the 12-acre recreational lake at the Gordonia-Alatamaha State Park. The park, inside the city limits of Reidsville, includes year-round camping, fishing, regulation golf, tennis, a picnic area and a playground.
There are a number of annual events held in Tattnall County including Glennville Sweet Onion Festival, July 4th Celebration and Fireworks in Gordonia, the Martin Luther King, Jr. Parade in Glennville and the Reidsville Christmas Festival and Parade.
Source: georgia.gov
TATTNALL CO TAX ASSESSORS
P O BOX 1010
REIDSVILLE GA 30453
912-557-4010