Georgia County Tax Assessor Websites
Select The Letter that Corresponds To The First Letter Of The County.  Then Select The County From The List Below.

Welcome to the Stephens County Assessors Office Web Site!
PUBLIC NOTICE
Notice to Stephens County Property Owners and Occupants. In accordance with O.C.G.A. 48-5-264.1, please be advised that the Stephens County Appraisal Staff may be visiting your property to review your parcel information concerning an appeal filed, return filed, construction of new improvement or addition, review of parcel, and/or conservation use application. The field appraiser from our office will have photo identification and will be driving a marked county vehicle. If you have any further questions, please call our office at (706) 886-7435.
Please be advised that the dates to make Property Tax Returns are from January 1 to April 1 each year. You may submit your current estimate of property value during this time to request a re-assessment of your property. THIS IS ALSO THE TIME TO SUBMIT APPLICATIONS FOR SPECIALIZED ASSESSMENTS.
Our office is open to the public from 8:00 AM until 5:00 PM, Monday through Friday.
The goal of the Stephens County Assessors Office is to provide the people of Stephens County with a web site that is easy to use. You can search our site for a wealth of information on any property in Stephens County.
The information contained herein reflects the values established in the "most current published" tax digest. *Please note that the Assessors Office establishes values only. The Stephens County Tax Commissioner should be contacted with tax bill related questions.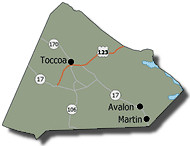 Did you know?
Stephens County was created in 1905 from parts of Franklin and Habersham counties. The county is named for Alexander Stephens, who served as vice-president of the Confederacy (despite his having opposed secession) and governor of Georgia.
The county's first inhabitants were an Indian tribe known as the "Mound Builders." The tribe thrived in Toccoa, at the foothills of the Great Smoky Mountains. The Mound Builders were followed by the Cherokee tribe who, legend says, named the area "Toccoah," meaning "beautiful" in their language.
The City of Toccoa originated in 1874, and can be traced back to the development of a coaling station for the Atlanta to Charlotte Railroad after the Civil War.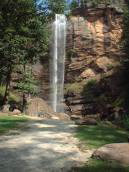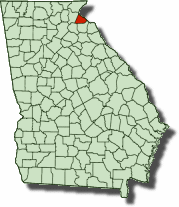 Stephens County is characterized by its bucolic setting and spectacular natural wonders. Located on the campus of the college named for them, Toccoa Falls, which plunge 186 feet, are 19 feet higher than Niagara Falls. The Chattahoochee National Forest, Blue Ridge Parkway, Tugaloo State Park, Lake Hartwell and Yonah Lake beckon to outdoor sports enthusiasts.
Stephens County hosts several community events including the Harvest Festival, the Arts Festival, and the Taste of Toccoa.
Source: georgia.gov
STEPHENS CO TAX ASSESSORS
P O BOX 189
TOCCOA GA 30577
706-886-7435