Georgia County Tax Assessor Websites
Select The Letter that Corresponds To The First Letter Of The County.  Then Select The County From The List Below.

The Board of Assessors office is open to the public from 8:00 a.m. until 5:00 p.m., Monday through Friday.
The information contained on this site reflects the values established in the "most current published" tax digest. Please note that theBoard of Assessors Office establishes values only. The Rockdale County Tax Commissioner should be contacted with tax bill related questions.
Did you know?
Rockdale County was created from parts of Henry and Newton counties. It was the 133rd county created, and was named after the Rockdale Church, as well as the vein of granite running beneath the county.
Conyers, the county seat and the only incorporated municipality in Rockdale County, was named for a local physician who donated a right-of-way for the first railroad and a lot in town for the railway depot.
Rockdale County is a fast growing and dynamic suburban community located 24 miles east of Atlanta on Interstate 20.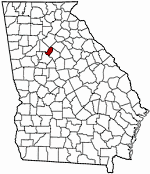 It is about 130 square miles in size – the second smallest of Georgia's 159 counties.
Rockdale County has the type of "family-friendly" community that is appealing to parents who want a safe, wholesome and progressive environment in which to raise their children. It features a county government that is committed to protecting and enhancing quality of life through long-range planning and responsible, fiscally conservative stewardship of the community's resources.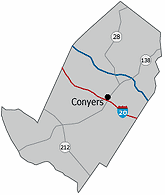 Rockdale County also has an excellent school system, an abundance of recreational opportunities, and a number of points of interests that are enjoyed by residents and visitors alike. These include Panola Mountain State Conservation Park, located on a granite mountain in south Rockdale, the Smyrna Campground, where old fashion camp meetings have been held since before the Civil War, and Randy Poynter Reservoir, a County-owned 650-acres water supply and recreation lake in the northern part of the County. It also is home to the city of Conyers' Georgia International Horse Park, site of the 1996 Olympic Equestrian events.
ROCKDALE CO TAX ASSESSORS
P O BOX 562
CONYERS GA 30012
770-929-4024