Georgia County Tax Assessor Websites
Select The Letter that Corresponds To The First Letter Of The County.  Then Select The County From The List Below.

Welcome to the Randolph County Assessors
Office Web Site!
Our office is open to the public from 8:00 AM until 5:00 PM, Monday through Friday.
The goal of the Randolph County Assessors Office is to provide the people of Randolph County with a web site that is easy to use. You can search our site for a wealth of information on any property in Randolph County.
The information contained herein reflects the values established in the "most current published" tax digest. *Please note that the Assessors Office establishes values only. The Randolph County Tax Commissioner should be contacted with tax bill related questions.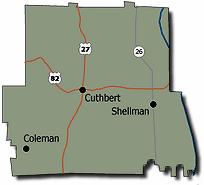 Did you know?
Randolph County was created in 1828 from a portion of Lee County. Georgia's 75th Georgia county was named for John Randolph of Virginia, a Republican Congressman and a descendent of Pocahontas.
Randolph's first county seat was Lumpkin. Lumpkin, however, became the seat of government for Stewart County, when it was created from a portion of Randolph.
One of the first pecan trees brought to Georgia from Texas was planted in Cuthbert. The tree eventually became known as the "mother of the Georgia pecan industry" in honor of its great age and size.
Grier's Cave in Randolph County is a huge underground limestone cavern that was first discovered via an entrance of less than three feet.
Cuthbert hosts an annual Historic Tour of Homes and the Fletcher Henderson Jazz Festival. Other festivals include the Pataula Creek Turkey Festival.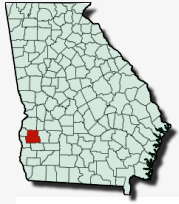 Cuthbert was named for Colonel John Alfred Cuthbert, editor, congressman, and judge. The city is the county seat of Randolph County and was incorporated on December 26, 1831.
Cuthbert is home to Andrew College, a private Methodist college that was the second in the nation to grant degrees to women. This college served as a Confederate hospital during the Civil War. In Cuthbert's Greenwood Cemetery are the graves of twenty-four Confederate soldiers who died at Hood Hospital. These soldiers are commemorated with a life-sized full figure marble sculpture of a confederate soldier.
Source: georgia.gov
RANDOLPH CO TAX ASSESSORS
P O BOX 344
CUTHBERT GA 39840
229-732-2522