Georgia County Tax Assessor Websites
Select The Letter that Corresponds To The First Letter Of The County.  Then Select The County From The List Below.

Welcome to the Polk County Assessors
Office Web Site!
PUBLIC NOTICE
Notice to the Polk County Property Owners and Occupants. In accordance with O.C.G.A. 48-5-264.1, please be advised that the Polk County Appraisal Staff may be visiting your property to review your parcel information concerning an appeal filed, return filed, construction of new improvement or addition, review of parcel, conservation use application and/or review and verification of personal property. The field appraiser from our office will have photo identification and will be driving a marked county vehicle. If you have any further questions, please call our office at 770-749-2108.
  
If you want an appraiser to review the interior of a structure, please contact our office.
Our office is open to the public from 9:00 AM until 5:00 PM, Monday through Friday.
The goal of the Polk County Assessors Office is to provide the people of Polk County with a web site that is easy to use. You can search our site for a wealth of information on any property in Polk County.
The information contained herein reflects the values established in the "most current published" tax digest. *Please note that the Assessors Office establishes values only. The Polk County Tax Commissioner should be contacted with tax bill related questions.
Created from parts of Floyd and Paulding counties, Polk County was named for President James K. Polk.
Cedartown carries the same name as a Creek Indian town previously found in the area. The name comes from the many Red Cedar trees around the county.
Rockmart is at the end of a state-owned abandoned railroad line to Atlanta. Polk County has over a 15 mile paved section of the Silver Comet Trail. The first section of the trail starts in Paulding County and heads west to Polk County. The second part of the trail runs from Coot's Lake Road to historical Downtown Rockmart.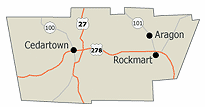 The important part of the trail, located in Cedartown, is not paved and still has railroad tracks on the trail. This part of the Silver Comet Trail connects Georgia to the Chief Ladiga Trail in Alabama.
Cedartown's Big Spring is the largest natural limestone spring in the South.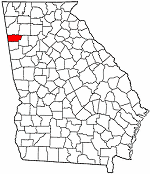 Listed on the National Register of Historic Places is the downtown district of Cedartown, an example of 1890s architecture. Also included is the Hawkes Children's Library, built in 1921. It is now a museum.
County Profile
Incorporated: December 20, 1851
Population: 38,127
Total Area: 311.2 Square miles
POLK CO TAX ASSESSORS
144 WEST AVE SU F
CEDARTOWN GA 30125
770-749-2108