Georgia County Tax Assessor Websites
Select The Letter that Corresponds To The First Letter Of The County.  Then Select The County From The List Below.

Welcome to the Pierce County Assessors Office
Web Site!
Our office is open to the public from 9:00 AM until 5:00 PM, Monday through Friday. We are located in the County Government Annex Building at 312 Nichols Street. We currently manage the information for the 12,072 plus parcels of real property and 1,390 personal property accounts and 1,903 Pre-bill Manufactured Homes property accounts in Pierce County.
Pierce County was created from parts of Appling and Ware counties. Georgia's 119th county was named for Franklin Pierce, 14th President of the United States.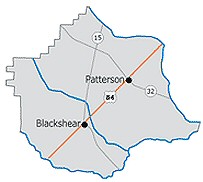 Blackshear was named for General David Blackshear, who supervised construction of the Blackshear Road. Patterson was named for William Patterson who resettled in the county from New York. He ran a sawmill in the area.
The Pierce County courthouse is listed on the National Register of Historic Places. There have been preliminary efforts to have the old Blackshear Jail and its hanging tower listed on the National Register.
A Confederate prison camp in Pierce County held about 5,000 Union prisoners of war during the last months of the Civil War. Prisoners were transferred to Pierce County from Millen, and possibly Andersonville, so that Sherman's troops would not be able to free them on their march south.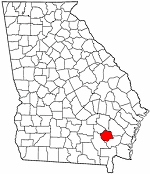 The Marion Anderson Library Black Heritage Collection in Blackshear contains about 300 volumes and oil paintings addressing African-American heritage. This is the largest publicly accessible collection of this type in the region.
Pierce County shares the Little Satilla Wildlife Management Area with Wayne County to the east.
There are two main festivals in Pierce County: the Harvest Fest in October and the Pecan Festival in November.
PIERCE CO TAX ASSESSORS
114 STRICKLAND AVE SU 1
BLACKSHEAR GA 31516
912-449-2025