Georgia County Tax Assessor Websites
Select The Letter that Corresponds To The First Letter Of The County.  Then Select The County From The List Below.

Welcome to the Pickens County Assessors Office Web Site!
Our office is open to the public from 8:00 AM until 5:00 PM, Monday through Friday.
The goal of the Pickens County Assessors Office is to provide the people of Pickens County with a web site that is easy to use. You can search our site for a wealth of information on any property in Pickens County.
The information contained herein reflects the values established in the "most current published" tax digest. *Please note that the Assessors Office establishes values only. The Pickens County Tax Commissioner should be contacted with tax bill related questions.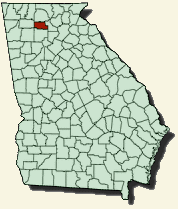 Did you know?
Pickens County was created in 1853 from parts of Cherokee and Gilmer counties. Georgia's 100th county was named for General Andrew Pickens, a Revolutionary War soldier.
A railroad line built in 1883 from Atlanta, through the valleys and mountain passes of Pickens County to Tate and Nelson, made possible the development of large marble quarries. One of the largest marble veins in the world is in Pickens County, running at least four miles long. It is a half-mile deep and almost that wide in places. Over 60 percent of the monuments in Washington, D.C. are made from Pickens County marble.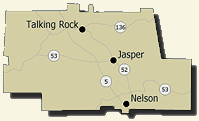 The Old Federal Road, the earliest vehicular route through northwest Georgia, crossed northern Pickens County at Talking Rock Creek.
Several special events take place in Pickens County. Two of the biggest festivals are held in October: the Marble Festival and Heritage Days Festival in Talking Rock.
Source: georgia.gov
PUBLIC NOTICE

Notice to the Pickens County Property Owners and Occupants. In accordance with O.C.G.A. 48-5-264.1, please be advised that the Pickens County Appraisal Staff may be visiting your property to review your parcel information concerning an appeal filed, return filed, construction of new improvement or addition, review of parcel, and/or conservation use application. The field appraiser from our office will have photo identification and will be driving a marked county vehicle. If you have any further questions, please call our office at 706-253-8700.
Pickens County Tax Assessors Office 1266 East Church Street, Suite 121
Jasper GA 30143
Phone:

706-253-8700

Fax: 706-253-8703
pickenscounty@ellijay.com
PICKENS CO TAX ASSESSORS
1266 EAST CHURCH STREET
SUITE 121
JASPER GA 30143
706-253-8700