Georgia County Tax Assessor Websites
Select The Letter that Corresponds To The First Letter Of The County.  Then Select The County From The List Below.

Welcome to the Oglethorpe County
Assessors Office Web Site!
Our office is open to the public from 8:00 AM until 5:00 PM, Monday through Friday.
The goal of the Oglethorpe County Assessors Office is to provide the people of Oglethorpe County with a web site that is easy to use. You can search our site for a wealth of information on any property in Oglethorpe County.
The information contained herein reflects the values established in the "most current published" tax digest. *Please note that the Assessors Office establishes values only. The Oglethorpe County Tax Commissioner should be contacted with tax bill related questions.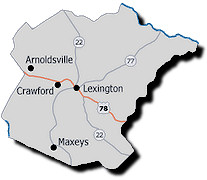 Did you know?
Oglethorpe County was created in 1793. Georgia's 19th county is named for the state's founder, General James E. Oglethorpe.
The largest city is Crawford, named for William H. Crawford, former Governor, U.S. Senator, Secretary of the Treasury and Minister to France.
The site known as Cherokee Corner was once an angle in the boundary between Creek and Cherokee lands. At one time, the site was important to surveying in the region.
Other important sites are the home of Governor Gilmer and Watson Mill Bridge State Park, which is shared with Madison County. The bridge, which is located on the South Fork Broad River, is the largest in Georgia, and was in the past the site of a grist mill and power generation plant.
Bartram Buffalo Lick, located in Philomath, is an iron-bearing clay pit of about 1.5 acres. This site was often visited by buffalo, deer and cattle, although it has no saline properties. It was a meeting place for the area's Indians.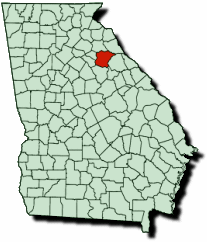 Lexington, incorporated November 24, 1806, is the county seat of Oglethorpe County. The city was named for the town in Massachusetts where the first Revolutionary War battle took place. In the very heart of Lexington stands the Oglethorpe County courthouse. Constructed in 1887, this Romanesque Revival structure, listed on the National Register of Historic Places, was renovated during the 1990s. It is the oldest courthouse among only fifteen remaining courthouses of this architectural style remaining in Georgia.
There is a walking tour of the town that includes numerous historical buildings and homes. The Joseph Lumpkin House, circa 1790, is the oldest documented house and the home of the first chief justice of the Georgia Supreme Court. The Lexington Presbyterian Cemetery contains the graves of prominent Georgia politicians: George Rockingham Gilmer, a governor of Georgia; Wilson Lumpkin, also a governor of the state; and Joseph Henry Lumpkin, a founder of the Lumpkin School of Law at the University of Georgia.
According to 2000 Census, the City of Lexington had a population of 239 persons. Between 1990 and 2000, the city experienced a population decrease of -9.8%, compared to the state growth during this period of 26.4%.
Source: georgia.gov
OGLETHORPE CO TAX ASSESSORS
P O BOX 136
LEXINGTON GA 30648
706-743-5166