Georgia County Tax Assessor Websites
Select The Letter that Corresponds To The First Letter Of The County.  Then Select The County From The List Below.

Welcome to the Lanier County Assessors
Office Web Site!
Our office is open to the public from 8:00 AM until 5:00 PM, Monday through Friday.
The goal of the Lanier County Assessors Office is to provide the people of Lanier County with a web site that is easy to use. You can search our site for a wealth of information on any property in Lanier County.
The information contained herein reflects the values established in the "most current published" tax digest. *Please note that the Assessors Office establishes values only. The Lanier County Tax Commissioner should be contacted with tax bill related questions.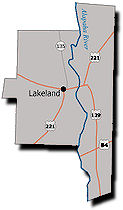 Did you know?
Lanier County, the 155th county formed in Georgia, was created in 1920. The county was named in honor of Georgia state poet, Sidney Lanier.
Lakeland, the county seat, is Lanier County's only incorporated municipality. Originally called Mill Town, Lakeland received its current name in 1925 in honor of its proximity to several lakes including Grand Bay Lake, Lake Irma and Banks Lake.
For many years, Lakeland owned and operated its own railroad.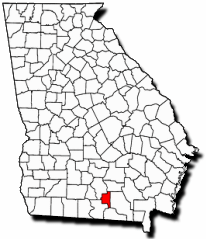 The county is famous for its excellent fishing in the Alapaha River, as well as in its many small lakes. Banks Lake Wildlife Refuge, which includes a 3,900-acre lake, is located in the county.
Lanier shares Moody Air Force Base with Lowndes County on its western boundary.
One festival held in the county is the Flatlanders Frolic Arts and Crafts Show. This event features bluegrass music, a road race and various other Labor Day weekend events. Also held in Lanier County is the Living Murals Celebration held in the Spring.
Source: georgia.gov
LANIER CO TAX ASSESSORS
100 W Main Street, Suite 2
Lakeland, GA 31635
Phone: 229-482-2090
Fax: 229-482-2105