Georgia County Tax Assessor Websites
Select The Letter that Corresponds To The First Letter Of The County.  Then Select The County From The List Below.


Welcome to the Johnson County Assessors
Office Web Site!
Our office is open to the public from 8:00 AM until 5:00 PM, Monday through Friday.
The goal of the Johnson County Assessors Office is to provide the people of Johnson County with a web site that is easy to use. You can search our site for a wealth of information on any property in Johnson County.
The information contained herein reflects the values established in the "most current published" tax digest. *Please note that the Assessors Office establishes values only. The Johnson County Tax Commissioner should be contacted with tax bill related questions.
Did you know?
Johnson County, the 129th county formed in Georgia, was created in 1858. Originally part of Emanuel, Laurens and Washington counties, Johnson County was named for Georgia governor, senator, and unsuccessful U.S. vice-presidential candidate, Hershel V. Johnson.
The county seat of Wrightsville was named for James B. Wright, a member of the committee that selected the site for the town. The other community in the county is Kite, named for Shaderick Kight who donated the land for the town. He requested the simpler spelling of his name to facilitate mail delivery.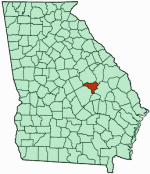 The Johnson County Courthouse, built in 1895 and incorporated February 23, 1866, is listed on the National Register of Historic Places. It is built of masonry in the Romanesque Revival/Colonial Revival style. It was renovated in 1940 by the Works Progress Administration.
The Grice Inn, also listed on the National Register, was built in 1905 by John Grice as a family home and inn. It served as the town's social center for many years.
The Kite Museum, in the former Masonic Lodge (1890), relates the history of the Kite community. Originally the second floor was used by the Masons and the first floor was used as the community center.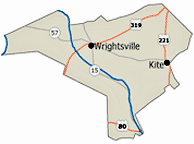 Johnson County is the home of Herschel Walker, professional football player and 1982 Heisman trophy winner from The University of Georgia.
Wrightsville participates in the Better Hometown Program run by the Georgia Department of Community Affairs. This community development program is a public-private partnership intended to revitalize small communities with populations between 1,000 and 5,000. These cities have access to technical assistance and fiscal resources designed to stimulate downtown revitalization.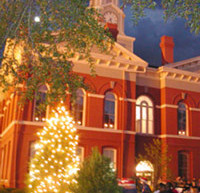 According to 2000 Census, the City of Wrightsville had a population of 2,223 persons. Between 1990 and 2000, the city experienced a population decrease of -4.6%, compared to the state growth during this period of 26.4%.
Kite was named for Shaderick Kight who donated the land for the town. He requested the simpler spelling of his name to facilitate mail delivery.
The Kite Museum, in the former Masonic Lodge (1890), relates the history of the Kite community. Originally the second floor was used by the Masons and the first floor was used as the community center.
Source: georgia.gov
JOHNSON CO TAX ASSESSORS
P O BOX 269
WRIGHTSVILLE GA 31096
478-864-3325
FAX-478-864-3325