Georgia County Tax Assessor Websites
Select The Letter that Corresponds To The First Letter Of The County.  Then Select The County From The List Below.
Jenkins County Board of Tax Assessors
Welcome to the Jenkins County Assessors Office Web Site!
*Please note that Jenkins County now has online maps!
Notice to property owners and occupantsOur office is open to the public from 8:00 AM until 5:00 PM, Monday through Friday.

The goal of the Jenkins County Assessors Office is to provide the people of Jenkins County with a web site that is easy to use. You can search our site for a wealth of information on any property in Jenkins County.The information contained herein reflects the values established in the "most current published" tax digest.

*Please note that the Assessors Office establishes values only. The Jenkins County Tax Commissioner should be contacted with tax bill related questions.

Did you know?Jenkins County, the 138th county formed in Georgia, was created in 1905 from territory then belonging to the counties of Bulloch, Burke, Emanuel and Screven. The county was named for Governor Charles J. Jenkins. It was originally proposed that the county be called Dixie. The Jones House, near Millen, was built as a stage coach stop in 1762. A century later, General Sherman's troops looted and set it afire on their march to the sea. Learning that the mistress of the house refused to leave her sick bed, the same troops extinguished the flames.Source: georgia.gov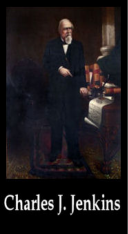 JENKINS CO TAX ASSESSORS
P O BOX 935
MILLEN GA 30442
478-982-4939
FAX-478-982-3706