Georgia County Tax Assessor Websites
Select The Letter that Corresponds To The First Letter Of The County.  Then Select The County From The List Below.

Welcome to the Jackson County Assessors Office Web Site!Our office is open to the public from 8:00 AM until 5:00 PM, Monday through Friday. The Assessor's Office is located on the lower floor of the Jackson County Administration building.
The goal of the Jackson County Assessors Office is to provide the people of Jackson County with a web site that is easy to use. You can search our site for a wealth of information on any property in Jackson County.
The information contained herein reflects the values established in the "most current published" tax digest. *Please note that the Assessors Office establishes values only. The Jackson County Tax Commissioner should be contacted with tax bill related questions.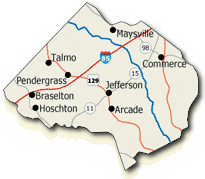 Did you know?
Jackson County, the 22nd county of Georgia, was created in 1796 from part of Franklin County. It is named for Revolutionary War General, Congressman, and Senator James Jackson.
The Jackson County Courthouse was constructed in 1879 and is a prime example of the neoclassical architecture of that time. A clock tower was added in 1906, and renovations were completed in 1978. The courthouse is one of the few examples of such architecture still in use in Georgia.
Commerce, the most populous city in the county, has become a major retail center featuring outlet malls.
State high school track and field championships are held in Jefferson, which has one of the top track facilities in the state.
Jackson is also home to the Peach State Motorspeedway.
Braselton is home of the Chateau Elan Winery, Panoz Motorsports, golf, equestrian center, resort and spa.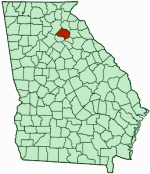 Jefferson was designated the county seat of Jackson County on November 24, 1806. The city, named for President Thomas Jefferson, was the site of a previous Indian settlement. The site of the city was originally an Indian settlement named Thomocoggan. The city was then incorporated as Jeffersonville. Later, the name was changed to Jeffersonton and finally shortened to its current name on June 30, 1824. Dr. Crawford W. Long first used ether for surgery in Jefferson on March 30, 1842.
The Crawford W. Long Medical Museum was established to commemorate that monumental occurrence in the medical field. In addition, Crawford Long Days in November is a festival to celebrate his memory.
According to 2000 Census, the City of Jefferson had a population of 3,825 persons. Between 1990 and 2000, the city experienced a population increase of 38.4%, compared to the state growth during this period of 26.4%.
Source: georgia.gov
JACKSON CO TAX ASSESSORS
67 ATHENS ST
JEFFERSON GA 30549
706-367-6330
FAX-706-367-5349