Georgia County Tax Assessor Websites
Select The Letter that Corresponds To The First Letter Of The County.  Then Select The County From The List Below.

Welcome to the Houston County Assessors
Office Web Site!
Contact Information:
Houston County Tax Assessors Office
Send mail to:
P O Box 1199
Perry, GA 31069-1199
Located at:
201 Perry Parkway
Perry, GA 31069-9275
Real Property:
(478) 218-4750

Mapping:
(478) 218-4770
   
Our office is open to the public from 8:00 AM until 5:00 PM, Monday through Friday.
The goal of the Houston County Assessors Office is to provide the people of Houston County with a web site that is informative and easy to use. You can search our site for a wealth of information on any property in Houston County.
The current values contained herein reflect "values under construction" and not yet approved by the Board of Tax Assessors. The previous value is the value shown on the last certified tax digest. *Please note that the Assessors Office establishes values only. The Houston County Tax Commissioner should be contacted with tax bill related questions or visit http://www.houstoncountyga.org.
Did you know?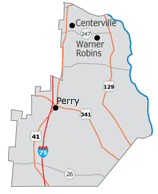 Houston County (pronounced House-ton), the 51st county formed in Georgia, was created in 1821. Originally part of the Creek nation's land, the county was named for John Houston, a member of the Continental Congress and Governor of Georgia from 1778 to 1784.
Perry is named in honor of Oliver Hazard Perry, the naval officer who said "We have met the enemy and they are ours," after a fleet under his command defeated the British at Lake Erie.
Both Warner Robins and Robins Air Force Base were named for Brigadier General Augustine Warner Robins.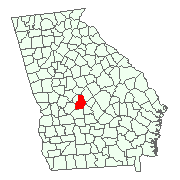 Robins Air Force Base, the center of the Warner Robins Air Material Area, was built in 1941 for around $15 million.

It covers 8,722 acres and is Georgia's largest single employer, providing an important economic boost to central Georgia.
Warner Robins is home to one of the top Air Museums in the country, the Museum of Aviation. This facility also includes the Georgia Aviation Hall of Fame as well as the Robert L. Scott Vistascope Theater.

Some of the county's special events include the World Class Air Show and the International City Festival, in Warner Robins; and the Georgia National Fair, the Mossy Creek Barnyard Arts and Crafts Festival, and the Dogwood Festival in Perry. The Georgia National Fair is an old-fashioned, state-sponsored fair held eleven days at the Georgia National Fairgrounds and Agricenter in Perry.
Warner Robins is home to the 2007 Little League World Series Boys Champion and is home to the 2009 and 2010 Little League World Series Girls Champion and starting in 2010 is the home of the Little League Southeastern Regional headquarters and regional tournament.
HOUSTON CO TAX ASSESSORS
P O BOX 1199
PERRY GA 31069
478-218-4750
FAX-478-218-4755