Georgia County Tax Assessor Websites
Select The Letter that Corresponds To The First Letter Of The County.  Then Select The County From The List Below.

Welcome to the Henry County Assessors Office
Web Site!
Our office is open to the public from 8:00 AM until 5:00 PM, Monday through Friday, excluding holidays.
The goal of the Henry County Assessors Office is to provide the people of Henry County with a web site that is easy to use. You can search our site for a wealth of information on any property in Henry County.
Please note that the Assessors Office establishes values only. The Henry County Tax Commissioner should be contacted with tax bill related questions.
Notice to Property Owners and Occupants
In accordance with Georgia Law (OCGA 48-5-264.1), please be advised that a member of the Henry County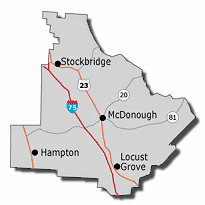 Appraisal Staff may visit your property to review or update property information. The purpose of this visit may be in response to one or more of the following: a return was filed, an appeal was filed, recent improvements or additions were made to the property, a change in zoning, a general review/update of parcel information, exempt property application, conservation use application, or decal inspections.
The field appraiser will have a photo identification badge and will be driving an appropriately marked vehicle. Should you have any questions or concerns, please do not hesitate to contact the Henry County Assessors Office at 770-288-7999.
HENRY CO TAX ASSESSORS
140 HENRY PARKWAY
MCDONOUGH, GA 30253
PHONE: 770-288-7999
FAX: 770-288-7961