Georgia County Tax Assessor Websites
Select The Letter that Corresponds To The First Letter Of The County.  Then Select The County From The List Below.

Welcome to the Harris County Assessors Office
Web Site!
Our office is open to the public from 8:00 AM until 5:00 PM, Monday through Friday.
The goal of the Harris County Assessors Office is to provide the people of Harris County with a web site that is easy to use. You can search our site for a wealth of information on any property in Harris County.
The information contained herein reflects the values established in the "most current published" tax digest. *Please note that the Assessors Office establishes values only. The Harris County Tax Commissioner should be contacted with tax bill related questions.
Did you know?
Harris County was created in 1827 from portions of Muscogee and Troup counties. Georgia's 71st county was named for Charles Harris, a lawyer who served as mayor of Savannah.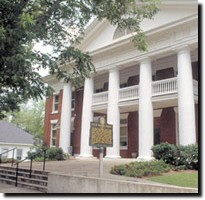 Franklin Delano Roosevelt State Park is located on Pine Mountain in Harris County. This 10,000-acre park features two lakes, hiking and backpacking trails, an FDR Museum, and warm springs famous for their curative powers.
The 500-acre Pine Mountain Animal Park allows visitors the opportunity to observe giraffes, camels, zebras, llamas, buffalo, elk and antelopes in natural habitats. Other attractions at the animal park include a monkey house, a serpentorium and an alligator pit.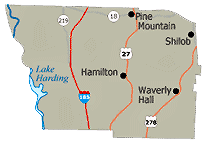 The nationally known Callaway Gardens Resort is located in the county. The 12,000-acre resort features 63 holes of golf, a 1,000-acre hunting preserve and one of the largest botanical gardens in the world. The Cecil B. Day Butterfly Center, featuring more than 50 species of tropical butterflies, and the John A. Sibley Horticultural Center are located within the resort.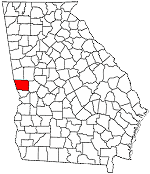 Several events occur annually in Harris County. Callaway Gardens hosts the Masters Water Ski Tournament in May, the Buick Southern Open PGA Golf Tournament in September and an Antique Show and Sale in November. Hamilton is the site of the Harris County Cattleman's Rodeo in September. Every October, Pine Mountain hosts the Pine Mountain Heritage Festival.
HARRIS CO TAX ASSESSORS
P O BOX 445
HAMILTON GA 31811
706-628-5171
FAX-706-628-4127