Georgia County Tax Assessor Websites
Select The Letter that Corresponds To The First Letter Of The County.  Then Select The County From The List Below.

Welcome to the Haralson County Assessors Office Web Site!
Our office is open to the public from 8:00 AM until 5:00 PM, Monday through Friday.
The goal of the Haralson County Assessors Office is to provide the people of Haralson County with a web site that is easy to use. You can search our site for a wealth of information on any property in Haralson County.
The information contained herein reflects the values established in the "most current published" tax digest. *Please note that the Assessors Office establishes values only. The Haralson County Tax Commissioner should be contacted with tax bill related questions.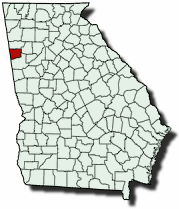 Did you know?
Haralson County was created in 1856 from parts of Carroll and Polk counties. Georgia's 112th county was named for General Hugh A. Haralson, a U.S. Congressman and an officer in the state militia.
The old county courthouse, built in 1891 and now home of the local historical society, is a prime example of a public building constructed in the Queen Anne style. The clock tower was added in 1897.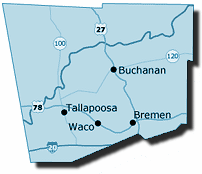 Tallapoosa, the "Dogwood City," was named for the river that runs through Haralson County. Tallapoosa is an Indian word meaning "Golden Water." Tallapoosa is also known for having opened the first free school in Georgia in 1889.
There are several special festivals planned throughout the year in Haralson County. These include the annual Dogwood Festival in April, the Waco Fest in September and the Christmas Tour of Homes in December.
Source: georgia.gov
HARALSON CO TAX ASSESSORS
P O BOX 548
BUCHANAN GA 30113
770-646-2022
FAX-770-646-2050