Georgia County Tax Assessor Websites
Select The Letter that Corresponds To The First Letter Of The County.  Then Select The County From The List Below.

Welcome to the Franklin County Assessors Office Web Site!
PUBLIC NOTICE
Notice to Franklin County Property Owners and Occupants. In accordance with O.C.G.A. 48-5-264.1, please be advised that the Franklin County Appraisal Staff may be visiting your property to review your parcel information concerning an appeal filed, return filed, construction of new improvement or addition, review of parcel, and/or conservation use application. The field appraiser from our office will have photo identification and will be driving a marked county vehicle. If you have any further questions, please call our office at (706) 384-4896 begin_of_the_skype_highlighting (706) 384-4896 end_of_the_skype_highlighting.
Our office is open to the public from 8:00 AM until 4:30 PM, Monday through Friday.
The goal of the Franklin County Assessors Office is to provide the people of Franklin County with a web site that is easy to use. You can search our site for a wealth of information on any property in Franklin County.
The information contained herein reflects the values established in the "most current published" tax digest. *Please note that the Assessors Office establishes values only. The Franklin County Tax Commissioner should be contacted with tax bill related questions.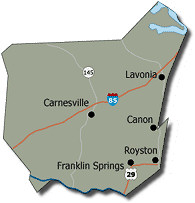 Did you know?
Franklin County was created in 1784 and originally encompassed all of what would become Banks, Barrow, Clarke, Jackson, Oconee, and Stephens counties, and parts of Gwinnett, Hall, Hart, and Madison counties, as well as three counties in South Carolina. Georgia's 9th county was named in honor of Benjamin Franklin.
Carnesville, the county seat, was named for Judge Thomas Peter Carnes, a lawyer and Congressman of the Revolutionary War era.
Places of historic note in the county include Cromers Mill Covered Bridge, built in 1906, and the Lavonia Carnegie Library, established in 1911 with a grant from Andrew Carnegie. Lavonia is the smallest city in the U.S. with an original Carnegie Library Building.
Lake Hartwell, Georgia's largest Army Corp of Engineers lake east of the Mississippi was formed by the impoundment of the Savannah River at Hartwell Dam. The lake's 55,950 acres have 962 miles of shoreline.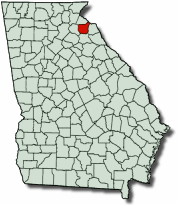 Franklin County leads the state in poultry production and the Franklin County Livestock Market is the state's largest.
Two state parks are in Franklin County. The 406-acre Victoria Bryant State Park, near Royston, features a nine hole golf course, as well as facilities for camping, swimming and hiking. Tugaloo State Park, on a 393-acre peninsula on Lake Hartwell, offers outdoor enthusiasts excellent opportunities for fishing and camping.
Annual events in Franklin County include the Lavonia Fall Festival in September, and the Royston Autumn Festival and the Harvest Festival at Tugaloo State Park in October.
Other events include the Jr.-Sr. Catfish Rodeo in April, Pioneer Skills Day in November, Heritage Day in May and the Easter Egg Hunt.
Source: georgia.gov
FRANKLIN CO TAX ASSESSORS
P O BOX 10
CARNESVILLE GA 30521
706-384-4896
FAX-706-384-4333