Georgia County Tax Assessor Websites
Select The Letter that Corresponds To The First Letter Of The County.  Then Select The County From The List Below.

Welcome to the Evans County Assessors
Office Web Site!
Our office is open to the public from 8:00 AM until 5:00 PM, Monday through Friday.
The goal of the Evans County Assessors Office is to provide the people of Evans County with a web site that is easy to use. You can search our site for a wealth of information on any property in Evans County.
The information contained herein reflects the values established in the "most current published" tax digest. *Please note that the Assessors Office establishes values only. The Evans County Tax Commissioner should be contacted with tax bill related questions.
Did you know?
Evans County, the 150th county formed in Georgia, was created from parts of Bulloch and Tattnall counties. It was named for Confederate General Clement A. Evans who led the last charge of the Army of Virginia at Appomattox. Claxton, the county seat, was incorporated in 1911 and named for Kate Claxton, a popular actress of the time.
The City of Claxton is known as the "Fruit Cake Capital of the World" in honor of its production of the traditional holiday treat. The Georgia Fruit Cake Company and Claxton Bakery, Inc., ship this delicacy around the globe each year.
The neo-classical Evans County Courthouse was built in 1923.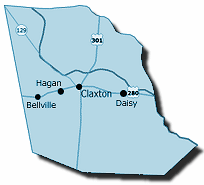 Old Sunbury Road runs through the county. Laid out in the 1790s, it was one of the longest vehicular thoroughfares of the post-revolutionary period.
Evans County residents and visitors alike enjoy the amenities of several local parks. Bacon-Ford Park is located in Claxton. Rocks River Park on the Canoochee River features camping, picnicking, and boating facilities.
Much of the southeastern part of Evans County is occupied by Fort Stewart, a U.S. Army base used as a flight training center.
The Evans County Wildlife Club hosts a Rattlesnake Roundup each March. Highlights of the event include a parade, beauty pageant, arts and crafts exhibits, and a snake hunting competition. Live rattlesnakes captured during the event are sold to colleges and laboratories for research purposes.
Source: georgia.gov
EVANS CO TAX ASSESSORS
2 FREEMAN ST
CLAXTON GA 30417
912-739-3424