Georgia County Tax Assessor Websites
Select The Letter that Corresponds To The First Letter Of The County.  Then Select The County From The List Below.

Welcome to the Dodge County Assessors Office
Web Site!
Notice to the Dodge County Property Owners and Occupants. In accordance with O.C.G.A. 48-5-264.1, please be advised that the Dodge County Appraisal Staff may be visiting your property to review your parcel information concerning an appeal filed, return filed, construction of new improvements or additions, review of parcel, conservation use application and/or review and verification of personal property. The field appraiser from our office will have photo identification and will be driving a marked county vehicle. If you have any further questions, please contact our office.
Our office is open to the public from 9:00 AM until 5:00 PM, Monday through Friday.
The goal of the Dodge County Assessors Office is to provide the people of Dodge County with a web site that is easy to use. You can search our site for a wealth of information on any property in Dodge County.
The information contained herein reflects the values established in the "most current published" tax digest. *Please note that the Assessors Office establishes values only. The Dodge County Tax Commissioner should be contacted with tax bill related questions.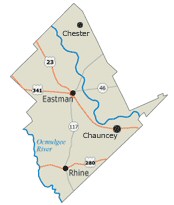 Did you know?
Dodge County was created in 1870 from parts of Montgomery, Pulaski, and Telfair counties. Georgia's 134th county was named for William E. Dodge, a New York businessman who owned large tracts of forest land in Georgia. Dodge helped persuade Congress to remove taxation from timber and built the first county courthouse in 1908 as a gift. The current courthouse was recently renovated by the county.
Eastman, the largest city and the county seat, was named for W. P. Eastman, a friend of Dodge.
Eastman is the home of the original Stuckey Candy Plant and is referred to as the "Candy Capital of Georgia." The Eastman House includes a museum of history for Dodge county and Eastman. The home was built in 1872 by William P. Eastman.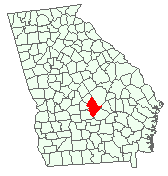 One of the major special events in Dodge County is the "A Dickens of a Christmas", held annually the second weekend in December. Another festival is the Spring Lake Bluegrass Festival/Old Timers Fiddlers' Reunion held in Rhine.
Source: georgia.gov
DODGE CO TAX ASSESSORS
5018 COURTHOUSE CIRCLE SUITE 201
EASTMAN, GA 31023-0818
PHONE: 478-374-8122
FAX: 478-374-4791