Georgia County Tax Assessor Websites
Select The Letter that Corresponds To The First Letter Of The County.  Then Select The County From The List Below.

Welcome to the Crawford County Assessors
Office Web Site!
Our office is open to the public from 8:30 AM until 4:30 PM, Monday through Friday.
The goal of the Crawford County Assessors Office is to provide the people of Crawford County with a web site that is easy to use. You can search our site for a wealth of information on any property in Crawford County.
The information contained herein reflects the values established in the "most current published" tax digest. *Please note that the Assessors Office establishes values only. The Crawford County Tax Commissioner should be contacted with tax bill related questions.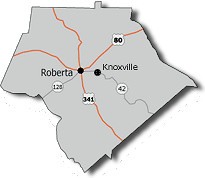 Did you know?
Crawford County, the 55th county formed in Georgia, was created in 1822 from Creek Indian lands and part of Houston County. Later, parts of Macon and Talbot counties were added. The county was named for William H. Crawford, who was U.S. Secretary of the Treasury when the county was created.
A monument to Joanna Troutman, who designed and made the Lone Star Flag adopted by the State of Texas, can be found on the historic courthouse square. The flag was presented to a group of Georgia volunteers who were en route to help Texas fight in its war of independence in 1835.
In Knoxville, there are several buildings listed on the National Register of Historic Places, including the Crawford County Courthouse (1831) and the Crawford County Jail (1882). The Roberta Historic District is also listed.
The county seat, Knoxville, received a charter in 1825, but it is no longer a functioning municipality. It was one of 187 inactive municipalities to lose their charters in 1995 as a result of a 1993 Act of the General Assembly.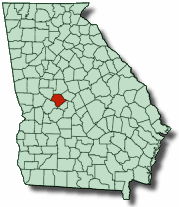 There are 19 archaeological sites in the county that have been filed with the State Archeological Office. The sites include the Indian Agency Reserve on the banks of the Flint River and the Creek habitation area along the Flint River. Benjamin Hawkins, an Indian agent from 1794 to 1816, is buried on this site.
Jefferson Franklin Long (1836-1900), the first African American who served in the 41st U.S. Congress, was born near Knoxville in Crawford County. Long was also a delegate to the Republican National Convention in Chicago in 1880.
Source: georgia.gov
CRAWFORD CO TAX ASSESSORS
P O BOX 1054
ROBERTA GA 31078
478-836-2800
FAX-478-836-2229