Georgia County Tax Assessor Websites
Select The Letter that Corresponds To The First Letter Of The County.  Then Select The County From The List Below.

Welcome to the Chattooga County Assessors
Office Web Site!
Our office is open to the public from 8:30 AM until 5:00 PM, Monday through Friday.
The goal of the Chattooga County Assessors Office is to provide the people of Chattooga County with a web site that is easy to use. You can search our site for a wealth of information on any property in Chattooga County.
The information contained herein reflects the values established in the "most current published" tax digest. *Please note that the Assessors Office establishes values only. The Chattooga County Tax Commissioner should be contacted with tax bill related questions.
Notice to Chattooga County Property Owners and Occupants:
In accordance with O.C.G.A. 48 -5-264.1, please be advised that the Chattooga County Appraisal Staff may be visiting your property to review information regarding a return being filed, the filing of an appeal, construction or new improvements, review of records for property division or transfer or for conservation use assessment applications.
The field appraiser from our office will have photo identification and will be driving a marked county vehicle. Should you have any questions regarding the review and visit to properties performed by this office do not hesitate contact us at 706-857-0737.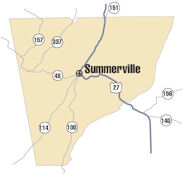 Did you know?
Chattooga County was formed from parts of Floyd and Walker counties. It takes its name from the Chattooga River, one of two Georgia rivers bearing that name. The county courthouse in Summerville was built in 1909 and is listed on the National Register of Historic Places.
Much of the Armuchee Ranger District, a 65,000-acre section of the Chattahoochee National Forest, lies within the county. Taylor Ridge and Johns Mountain are two of its most prominent features. Over 6,400 acres of Johns Mountain were recently proposed as a National Scenic Area.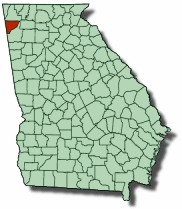 Some of the more popular recreational activities in the county include hiking, camping, mountain climbing and rappelling in the Lookout Mountain range, and canoeing down the Armuchee Creek. Genealogist and Civil War enthusiasts seek information from the various cemeteries and historical sites.
Some of the festivals and special events held in Chattooga County include the Howard Finster Arts Festival in May, the Sum-Nelly Arts & Crafts Fair in October, "Trick or Treat" Downtown Commerce Street Halloween Walk in October, and the Antique Car Show held every June.
Source: georgia.gov
CHATTOOGA CO TAX ASSESSORS
P O BOX 517
SUMMERVILLE GA 30747
706-857-0737
FAX-706-857-0748