Select The Letter that Corresponds To The First Letter Of The County.  Then Select The County From The List Below.
A | B | C | D | E | F | G | H | I | J| L | M | N | O | P | Q | R | S | T | U | W

Welcome to the Butts County Assessors Office Web Site!
Our office is open to the public from 8:00 AM until 5:00 PM, Monday through Friday.
The goal of the Butts County Assessors Office is to provide the people of Butts County with a web site that is easy to use. You can search our site for a wealth of information on any property in Butts County.
The information contained herein reflects the values established in the "most current published" tax digest. *Please note that the Assessors Office establishes values only. The Butts County Tax Commissioner should be contacted with tax bill related questions.
NOTE: The Appraisers of the Butts County Tax gAssessors will be working in the county in the coming months. The following matters will be looked at: permits, improvements (adding and /or removal of improvements). The appraisers will leave a notice on the doorknob stating the time we were there and why we visited your property. We work in pairs with I.D. and we will be in a county truck with our logo on the side. Please contact our office if your have any questions.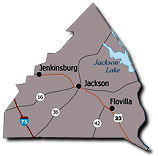 Did you know?
The 64th county formed in Georgia, was created from Henry and Monroe counties. It was named for Captain Samuel Butts, a militiaman killed fighting Creek Indians in the War of 1812.
Historic sites abound in Butts County, like Indian Springs Hotel (1823), the Indian Springs Church (1855), the Butts County Courthouse (1898), the Old Flovilla School (1885-1932), and historic private homes.
Lake Jackson, one of the earliest reservoirs in Georgia, was formed in 1910 when the Central Georgia Power Company completed a dam and hydroelectric plant at Lloyd Shoals on the Ocmulgee River.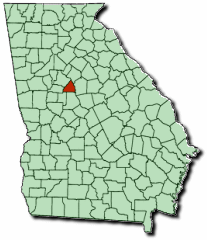 Indian Springs is the oldest state park in the United States. The Creek Indians used the springs for centuries to heal their sick and to keep the healthy well. It was also the site of the treaty that ceded the Creek Indian lands to the state of Georgia in 1825.
Robert Grier was one of Butts County's notable citizens. He was the publisher of Grier's Almanac which has been published annually since 1807. Current sales average 2.5 million copies a year.
Festivals in Butts County include the Scottish Festival, the Native American Festival, and a Civil War re-enactment each November.
The City of Jackson, the county seat of Butts County, was incorporated on December 26, 1826. The city was named in honor of President Andrew Jackson.
The Butts County courthouse, built in 1898, has Victorian-style stairs, marble floors and the courtroom still intact. The building is listed on the National Register of Historic Places.
Jackson hosts several festivals annually including the Scottish Festival (April), the Native American Festival (September) and Civil War Days (November). According to 2000 Census, the City of Jackson had a population of 3,934 persons. Between 1990 and 2000, the city experienced a population decrease of -3.5%, compared to the state growth during this period of 26.4%.
Source: georgia.gov
BUTTS CO TAX ASSESSORS
625 W. 3rd ST
SUITE 1
JACKSON GA 30233
770-775-8207
FAX-770-775-8249