Select The Letter that Corresponds To The First Letter Of The County.  Then Select The County From The List Below.
A | B | C | D | E | F | G | H | I | J| L | M | N | O | P | Q | R | S | T | U | W

Welcome to the Burke County Assessors
Office Web Site!
Our office is open to the public from 9:00 AM until 5:00 PM, Monday through Friday.
The goal of the Burke County Assessors Office is to provide the people of Burke County with a web site that is easy to use. You can search our site for a wealth of information on any property in Burke County.
The information contained herein reflects the values established in the "most current published" tax digest. *Please note that the Assessors Office establishes values only. The Burke County Tax Commissioner should be contacted with tax bill related questions.
Did you know?
Burke County was one of Georgia's original eight counties. Originally organized as the Parish of St. George, Burke County was named for English political writer, member of the British Parliament and supporter of the colonies' interests, Edmond Burke.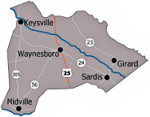 Known as the "Bird Dog Capital of the World," Waynesboro was named for General Anthony "Mad Anthony" Wayne, a famous Revolutionary soldier.
Georgia Power Company's Alvin W. Vogtle Nuclear Power Plant is located in the county on the Savannah River and began operation in the late 1980s.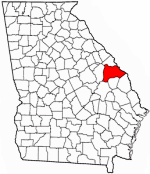 Burke County claims ten Georgia Governors by birth, residence, or marriage. Lyman Hall, Georgia signer of the Declaration of Independence and member of the Continental Congress, had a plantation in the county. The other nine Governors with Burke County ties are John Houston, Samuel Elbert, Edward Telfair, Jared Irwin, James Jackson, David Emanuel, William Schley, Herschel V. Johnson and Hoke Smith.
Burke County is home of numerous festivals and special events. The Georgia Field Trials is one of the nation's oldest hunting dog competitions. The Redbreast Festival, celebrates the Ogeechee River's unique variety of redbreasted bream. Other events include the Cotton Country Festival, the Tour of Homes and Christmas on Liberty Square.
Source: georgia.gov
BURKE CO TAX ASSESSORS
P O BOX 46
WAYNESBORO GA 30830
706-554-2607
FAX-706-554-1548